Sarti Sithonia Chalkidiki
Sarti - Geography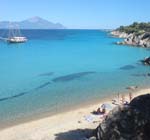 Sarti is a traditional fishing village directly on the coast of the Gulf Singitikos (east side of Sithonia) is located. The large bay of Sarti is 2.5 km long from north to south oriented and is due to the clarity of the water with the "Blue EU Edge "characterized.
To the north is Sarti extends over 8km. Along the east coast with many beautiful bays and includes the Bay of Armenistis.
To the south is bordered to the next village of Sarti Sykia (after about 9 km.)
To the west, the boundary of the local area extends over the hills of the Massif Itamos (817m) where there are many hiking trails (dense coniferous forest) Eastwards towards the town area at a distance about 28km. There is the holy Mount Athos. One should not miss a sunrise.
Sarti - History
I n the area of the ancient settlement of Sarti lad "Sarte". In "Herodotus" it is the most southerly city in the east coast of Sithonia and member of the "Athenian League" in 434v.Chr. mentioned.
The most likely origin of the inhabitants of the settlement of chalkischen Toroni which is on the 8th century BC. immigrated from Chalcis and Evia. When and why was the ancient city "Sarte", destroyed or abandoned is not known.
The municipality has 1,000 inhabitants. The majority of the population is employed in the tourist bronchi, but there are no non-fishing activities such as, agriculture and animal breeding.
In the 14th century, the area belongs to the monastery of Sarti "Xiropotamou" on Athos. The monastery was talking in his field "Metochi" that the figure of a small village and acceptance was given the name "Sarti". These ruins are still besichtbar. According to the Greek - Turkish War (1919-1922) was Sarti, re-inhabited by Greek refugees from Asia Minor.